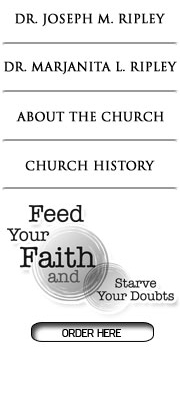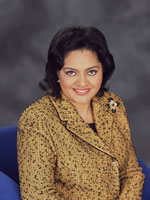 DR. MARJANITA L. RIPLEY


Dr. Marjanita L. Ripley is the wife of Dr. Joseph M. Ripley, Sr. (Pastor and Founder of The Body of Christ Church International, U.S.A. in College Park, Georgia and Alpharetta, Georgia). She serves with her husband in empowering others to demonstrate Christ-likeness in personal, domestic, corporate and cultural areas of human experience.
She is the Founder and Director of Victorious Women for Christ- an outreach of The Body of Christ Church International, U.S.A. - purposes to train and develop women to reach their full God-given potential in their homes, communities, church and the marketplace. Marjanita's wealth of Godly wisdom and administrative (management) gifts and skills have enabled her to provide mentoring and life coaching to many religious and civic leaders, professionals, celebrities, and youth.
As founder of "Excelling in Life", and a certified Youth Etiquette Consultant, she has worked with the Fulton County and Clayton School Systems in mentoring young men and women in practical life skills and character development.
Marjanita is the world-renowned author of "Living the Worry-Free Life: Experiencing God's Peace in the Midst of Adversity", available in English and Spanish. She is a highly regarded motivational and conference speaker in leadership and practical living - traveling to such places as Hawaii, Australia, Central America, Canada, China , and Israel, to name a few. Dr. Ripley has been recognized by Cambridge's Who's Who of Distinguished Professionals. In 2011, she was recognized by The Trumpet Awards Foundation with the prestigious "High Heels in High Places" award.
Dr. Ripley is a Trustee of The International Third World Leadership Association (ITWLA), founded by the late Dr. Myles Munroe, promoting "Change Through Leadership", with special focus on the Third World. Recently, Dr. Ripley was conferred the appointment of Ambassador Stateswomanto the United Nations by Word of Life Ministries International (WOLMI), a non-governmental organization in special status of the Economic and Social Council of the United Nations (ECOSOC). Most recently she was recognized as an expert in the area of Christian Leadership, and thus received the title of Her Excellency Reverend Doctor Marjanita Ripley, CDKA,Ph.D., COIE.
She holds a special place in her heart for those less fortunate, and through the efforts of her other business interests, has been able to generously partner with and fund mission efforts – locally and abroad. She serves on the board of The International Third World Leadership Association – creating change through leadership global impact, investment and training.
Marjanita is a graduate of the University of Georgia, where she majored in Political Science and Business. She is a member of the University of Georgia Alumni Association. Dr. Ripley received her Doctoral Degree of Divinity, in Religious Education, from the New Covenant International Bible College. Drs. Ripley (Joseph) are the proud parents of three children, April, Heather and Joseph, Jr.